I've been having a bit of a bake up this week.. the banana loaves are very popular with everyone here & disappear quickly.  They are very handy for the boys lunches.  In case you are wondering how I have such a big supply of overripe bananas… I buy bags of salad bananas when they are cheap & freeze them whole (skin off)  to use as required.
As I was cooking the other night, I considered the pretty & vintage items I was using & how much more enjoyable they make the baking experience.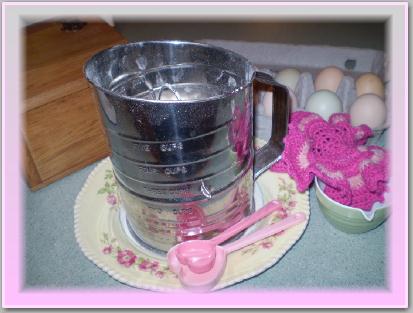 My father made the rimu recipe box for my birthday as my old recipe book had given way at the seams (due to overloading!)   I crocheted the dishcloth.. actually I've made a lot of dishcloths and other crochet items this year but they will be the subject of a new blog soon.  If you'd like to see some I'm selling do have a look at my listings on Trade Me 
I love the pretty rainbow colours of our chookie eggs….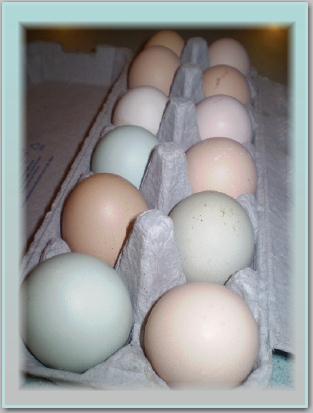 The hens are producing well now the days are getting longer and generally warmer.  We've had some wonderful spring like days this week.  I have several broody banties already and set some eggs under one of them today.  Hopefully we'll have our first chickens of the season in 3 weeks

And, even though its rather late in the season, we have decided to let Lulu goat visit a man .. she has been quite insistent this weekend

 We checked her udder today as I noticed it was looking fuller. There is some milk there so, if the one night stand doesn't work out, hopefully we'll get milk anyway.