Hi all
It's been a while hasn't it?  
Well today I have to share with you the deeeeeelishous spaghetti I made for tea last night.  Every summer I hang out for enough tomatoes to make this. Some years I do well & get several ice cream containers full frozen to take me through winter. Sadly, this is not one of those years.  Hit by white fly early on, my tomatoes just aren't producing much, in spite of growing about 6 different varieties!  Thankfully, my father has an over-abundant supply

I make a spaghetti sauce recipe from the Rally Cookbook my aunt gave me about 30 years ago.  It has far to much sugar in it for modern health, but, that is just what makes it taste so good, so I shall keep making it :O   The internet is full of many healthier recipes like Alison Gofton's & this one on my favourite recipe site, Food.com but I can't find anything like mine on the net, so, I will bravely share it with you sweet toothed folk out there.
Boil together until soft:
3kg fresh Tomatoes, chopped roughly & 2 chopped Onions
Put through your trusty old fashioned mouli to remove seeds & skins. Return to the heat & add:
1/2 teaspn Pepper
1 Tablespn Salt
1/2 cup Sugar (actually sometimes it needs a little more.. taste test & add 1 Tablespn at a time)
At this point the recipe says to add a serious amount of butter & cheese but I find it didn't alter the flavour without the butter…  & the cheese is nice but not necessary for me… see.. I'm not completely unhealth conscious  

I often add some cut up bacon here (about 125g) & always a good dose of crushed garlic.
If you want to freeze or bottle the sauce you will need to boil it for about 1/2 an hour to reduce.
If you are eating it fresh, you can choose to follow the recipe & cook 250g Spaghetti Noodles separately then add to the reduced sauce OR do it my way & add the spaghetti to the sauce & cook it all together  That way the pasta soaks up the tomato & becomes extra good!  You do have to watch it very carefully though & stir often.
If you manage to have some left over, you will find it tastes even better after a day in the fridge.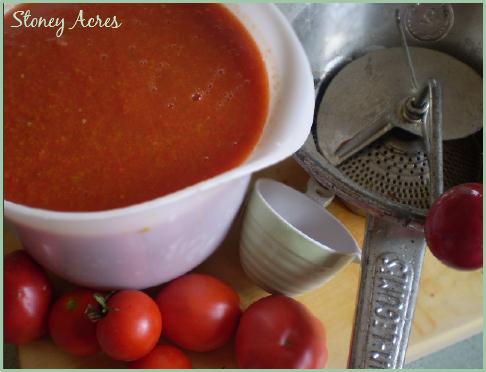 I managed to catch Jamies Oliver's 15 minute meals on TV the other week.  Always seem to miss that.  In this program he made meatballs so I felt inspired to add them to my sauce.  I used beef mince, whizzed up with a bit of bread & some mixed herbs, salt & pepper.  Made tiny balls, fried them a little, then added to my spaghetti sauce & noodle mix to cook through.  Served with grated Parmesan on top.  My boys loved it so much they begged for more.  DEFINITELY going to do that again.
Tags: tomato sauce