Once a week hubby works as groundsman at a factory near home.  They have a few sheep which graze the land around the factory and every year hubby has to pick up dead lambs due to the lack of care from staff.  It really upsets him but there was a bright spot a few years ago when we rescued a newborn ewe who was very hypothermic.  She made a full recovery and was rehomed to a loving lifestyle family.  
We had a super frost here this morning and hubby found another cold newborn ewe whose mother had neglected her.  I rushed to collect her in a basket laden with blankets and a hot water bottle.  I felt like an ambulance officer on an emergency mission.

  She was so sweet.  A romney x with the cute furry face and legs that seemed very short compared to my Gotlands.
Lambie was placed by our fire to warm up and our dachshund, who had mothered the last sick lamb and a baby piglet before that, licked lambies face.   It seemed to perk her up.  I have frozen goat collostrum which I mixed with a little Ketol and I got 20ml down her with a syringe.  After more dog licks and a few cuddles all seemed well.  She was making adorable little lamb bleats. I left her to rest.  Sadly however, next time I checked on her she had just passed away, quietly in her sleep.
I just dont get used to this part of farming.  It's why I dont have lambs very often myself.  Here I was crying over a lamb that wasnt mine and I'd only known for 3 hours!  I really dont think it would matter if I had 200 sheep..  9 years and many deaths has not hardened me much at all.  The great thing about farming though is that there are also many wonderful moments with the animals to make up for the lows.  And I wouldnt trade that.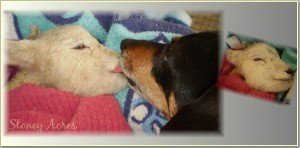 Like many before her, lambie was buried beneath a new tree.  A Viburnum I grew from a cutting.