I had an afternoon baking today since the weather was a little cooler.
Dont you love these adorable measuring spoons my daughter gave me for Christmas?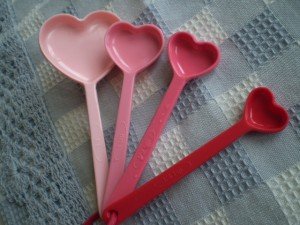 My little boys helped me make Thumb Print cookies

& were horrified by the condition of the bananas I put into the Banana Loaves

I'm in love with these mini loaf tins I found at The Warehouse.. I just need to get another set as every recipe seems to have enough mix for 4.
The Chocolate Crinkle Cookies in the picture above were not entirely successful.  Turned out a lot flatter than they were supposed to .. in fact the first batch ran into one giant cookie all over the baking tray :O   They're a great looking biscuit though so I'll continue my search for a better recipe.