I've been venturing out into our orchard in the cool of the morning to make the most of our fruit before the birds get it!  This is one of the netting covered trees I have to fight my way into.. but at least the birds have to fight too.
We have 2 San Rosa plum trees full of lovely big juicy fruit.. the kind you have to eat outside because of all the juice running down your chin & arm.  The chookies love them too & help keep the ground underneath clear of wind falls.
We also have a first year Plumcot which I was eagerly awaiting.  Its like a little sweet plum with more of an apricot texture.. just lovely… & so pretty on the tree too.  In winter I will be getting handy hubby to graft a couple more of these to grow for sure.
Then Im over to the strawberry beds.  We have two raised beds hubby rebuilt this year full of assorted varieties.  The raised beds are wonderful .. much easier to pick the fruit, clear the weeds & keep covered with bird netting.  The first beds we made were much too wide to tend without having to stomp on them, so they've been cut in half.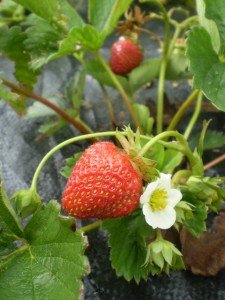 He also replanted our raspberries in raised beds .. to help contain them.. plus he's spent a lot of hours putting in posts & wires to support them & the bird netting.  We've had a few berries but hopefully they'll come into their own next year to make all his labour worthwhile. Raspberries would have to be one of my favourite things.  We have 4 different varieties & so far I'd have to say the little yellow ones (sold as Ivory) are the most consistant producers.. & the sweetest.