This morning I went out, into the sun, to snap some pretty pictures to show you.
After the torrential downpours of rain with thunder (that shook the house) & lightening we've had for 2 or 3 days, Mr Sun decided to make an appearance this morning.
 I love the day after rain. The air is so fresh & everything seems so clean (all the sparrow poop gets washed off the gates & fence posts.. why do they have to poop right were you put your hand.. every time!?)  The rain drops glistened in the sun which streamed through the neighbours trees in coloured rays & steam rose from the fences & sheds as the sun warmed the wet.  It was soooo pretty.  I took the photos & came inside to download them but half an hour later..Mr Sun was gone

 So much for hanging out the washing backlog as I planned.  
The goats were delighted to be out of their shelters (goats hate rain). 
Little Luwis seems to be 'becoming a man'. I noticed he is doing the charming boy goat thing of weeing on himself.. for some reason beyond me, girl goats like that stuff.. or at least the boys think they do!  I'm still wondering if he's actually going to manage Jane. As you can see, she is twice his size at present. (See Luwis as a baby here).
And here is Luwis' sister, the very portly Lindy Lu.. 
Still with her mother & most likely sucking all our milk.  Hubby got half a cup today. It's just not practical to separate them at present but it rather defeats the purpose of having milking goats.
My bulbs, which I confess I only repotted a week or two ago, are already popping through the soil.  These are my tulips (see pictures of them here), red freesias & my fancy daffodils.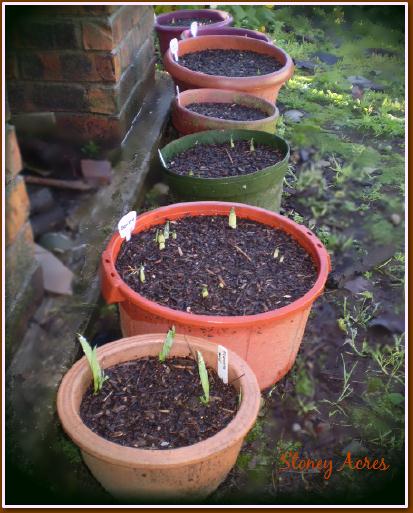 And hubby bought me an extra packet of pretties this year…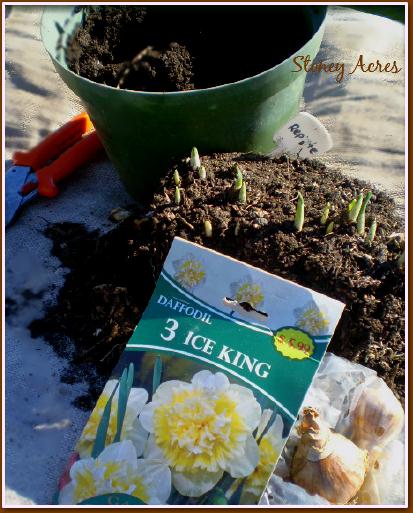 Lastly, I just have to share with you my cute little Mini Feijoa loaves I made this morning… 
Frugal tip… a butter wrapper cut into quarters lines these wee tins perfectly.