Things have been busy around here…
We've had a nice (but smelly) buck visit our 2 young goats, ZhaZha ( Saanen/ Nubian) & Lulu (Toggenburg/Saanen).  Im hoping for some coloured babies.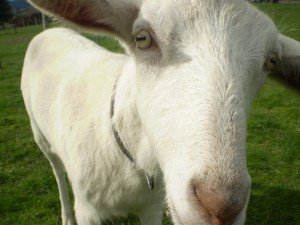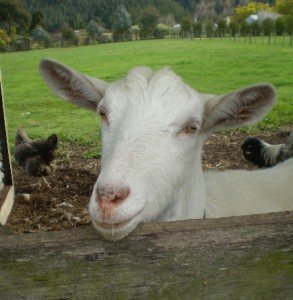 Our old Saanen goat, Rosie, who came from the SPCA at an unknown age, we decided was too old to be mated again.  She struggled producing her twins last year but she is still giving us a little milk.
And, we've had a lovely little Gotland ram visiting with our 5 sheep.. 2 of which are purebred Gotland, the other 3 are gotland cross.  All our sheep are kept for their wool & I particularly love the gotlands.. lovely fleece & lovely natures too. We used to have all pure gotlands but their one downfall is they tend to have trouble with their feet.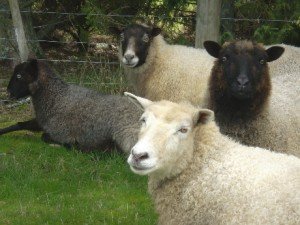 Now, you are right in thinking that we are very late getting in the boys. There are already lambs being born.  We are late for several reasons..
1) I hate lying awake worrying about babies getting cold. Our first couple of years we had lambs during frosts & it was too stressful for me.. we have great sheds but not all mothers are sensible enough to birth or take their babies into them

2) 1 year I had to sit up most of a freezing cold night looking after a mother who was having trouble giving birth
3) I wasnt sure I wanted to go through all the drama & stress that we seem to have with lambs & kids. I cant believe how much trouble we've had with so few animals. In the end hubby decided we needed some more lambs for the freezer (which sounds awful but is all part of the self sufficient lifestyle) &, of course, we cant get milk from our goats unless they kid.

The chooks are back into laying after their winter moult/rest & plenty are going broody. In the past I have bred lots of chicks to sell but this year Im going to 'try' not to breed too many (folk who know me laugh when I say that).  Chicks are quite a bit of work.. & breeding can be frought with sadness.. but chicks are lovely so I've let 2 of my girls sit.. a silkie & an orpington are on a mix of eggs. At least I will know if the boys are working, then I can sell some eggs to others to hatch.