Last weekend was the Brightwater Summer Show.  We were asked to put in some entries to help make up numbers. My dahlias, & most of my garden, were looking quite sad after a windy storm followed by a week of dry.  I picked a bucket full but was told most were not "show" flowers.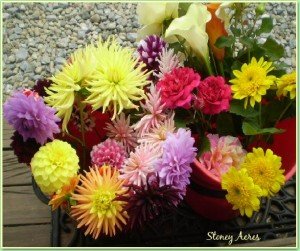 I entered about half of them anyway.  I figured I had pretty flowers that show visitors would like to look at.. the perfection of them or winning  is not important to me.
You can imagine my surprise when they rang to tell me I'd won Premier Rose.. that's the best rose in show!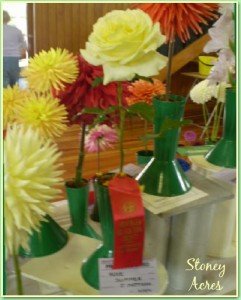 After winning, I thought I should find out what this lovely rose was called.  It is one of many plants that we have given refuge to over the years of our gardening business. Once unloved & unwanted, this fantastic easy care bush rose grows to about 2 metres high & wide & smoothers itself repeatedly with beautiful creamy lemon blooms on long pickable stems.. what is not to love?  Ok, well the thorns maybe, but you can't have everything. The most likely name I could find was 'Limona'.  If anyone out there knows different, please do let me know.
The boys entered Sand Saucers & Vege animals.  
Sadly there were no other childrens entries.  Times have changed.  Sand saucer competitions were common when I was young. I guess many folk don't have the flower gardens to pick from now.
We also entered some veges & fruit. I was pleased to see a good amount of entries in these sections. I think it was only my cabbage & my cucumber that got first places there. 
Our garden seems really behind this season.  We have only just eaten the first of our tomatoes.. & they are in a glass house!  It's been a great potato season here tho.. good quantities & size.  We've been eating them for a couple of months now.  We really like 'Heather' reds & will definitely grow them again.
I must remember to fill in my Garden Diary. Mid Feb & I haven't even taken it out of the wrapper yet  :O